(86)755-29810318
National Service Hotline
Shenzhen Jinhaite Electronic Co., Ltd.

Shijiazhuang Haite Electronic Co., Ltd. (Branch Company Shenzhen Jinhaite Electronic Co., Ltd.) was established in 1995 (formerly Radio 3Th-Factory of Shijiazhuang ); the company has a professional efficient and loyal team of 48 employees, including research and development engineering and quality assurance personnel eight people, has 20 years of experience with large companies supporting cooperation. Companies specializing in the development & production of high voltage metal glaze film rod with capping & sorting and finished resistors. the product has: high voltage、resistant to heat & humidity、against surge、high resistance value with precision、excellent power dissipation、lower TCR、high-reliability characteristics.....
Shenzhen Jinhaite Electronic Co., Ltd. Service Tel:0755-29810318
Fax:0755-27652912 Email:haiteyw@szjinhaite.com
Business:Miss wang Mob:13723425136 General manager:Mr Xi Mob: 13828759660
Add:building two floor, Huang Feng Ling Industrial Zone,Shiyan town,Baoan District,Shenzhen City,Guangdong Province.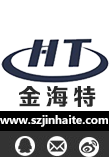 ©2016 Shenzhen Jinhaite Electronic Co., Ltd. Copyright 2016.All Rights Reserved ICP:粤ICP备16088194号-1